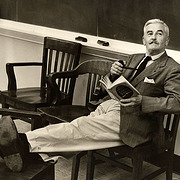 William Faulkner
(1897–1962)
Informazioni generali
Nome canonico

Nome legale

Altri nomi

Data di nascita

Data di morte

Luogo di sepoltura

Sesso

Nazionalità

Luogo di nascita

Luogo di morte

Causa della morte

Luogo di residenza

Istruzione

Attività lavorative

novelist
short story writer
poet
literary critic
essayist
screenwriter (

mostra tutto

14)
playwright
bank clerk
postmaster
roof painter
carpenter
deckhand
coal shoveler
pilot

Relazioni

Faulkner, John (brother)
Falkner, Murry C. (brother)
Faulkner, Jim (nephew)
Falkner, William Clark (great-grandfather)
Percy, William Alexander (friend)
Anderson, Sherwood (friend) (

mostra tutto

9)
West, Nathanael (friend)
Franklin, Malcolm A. (stepson)
Wells, Dean Faulkner (niece)

Organizzazioni

British Armed Forces
American Academy of Arts and Letters
Sigma Alpha Epsilon
University of Mississippi (postmaster)
Metro-Goldwyn-Mayer (screenwriter)
Warner Brothers (screenwriter) (

mostra tutto

8)
University of Virginia (writer-in-residence)
National Institute of Arts and Letters

Premi e riconoscimenti

Nobel Prize (Literature, 1949)
National Institute of Arts and Letters (1939)
American Academy of Arts and Letters (1948)
William Dean Howells Medal (1950)
Chevalier de la Legion d'honneur (1951)
Silver Medal of the Greek Academy (1957) (

mostra tutto

8)
National Institute of Arts and Letters Gold Medal (1962)
Created the PEN/Faulkner Award

Breve biografia

William Cuthbert Faulkner (September 25, 1897 – July 6, 1962) was an American writer and Nobel Prize laureate from Oxford, Mississippi. Faulkner wrote novels, short stories, screenplays, poetry, essays, and a play. He is primarily known for his novels and short stories set in the fictional Yoknapatawpha County, based on Lafayette County, Mississippi, where he spent most of his life.

Faulkner is one of the most celebrated writers in American literature generally and Southern literature specifically. Though his work was published as early as 1919 and largely during the 1920s and 1930s, Faulkner's renown reached its peak upon the publication of Malcolm Cowley's The Portable Faulkner and his 1949 Nobel Prize in Literature, making him the only Mississippi-born Nobel winner. Two of his works, A Fable (1954) and his last novel The Reivers (1962), each won the Pulitzer Prize for Fiction. In 1998, the Modern Library ranked his 1929 novel The Sound and the Fury sixth on its list of the 100 best English-language novels of the 20th century; also on the list were As I Lay Dying (1930) and Light in August (1932). Absalom, Absalom! (1936) appears on similar lists.

Nota di disambiguazione

This is not the same person as William Falkner (d. 1682), English theologian. Do not combine the two.
Statistiche
Opere

412

Opere correlate

182

Utenti

84,980

Popolarità

#130

Voto

3.9
Recensioni

1,056

ISBN

1,422

Lingue

33

Preferito da

495

A proposito di

2

Citazioni

2,218