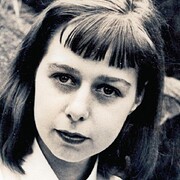 Carson McCullers
(1917–1967)
Informazioni generali
Nome legale

Data di nascita

Data di morte

Luogo di sepoltura

Sesso

Nazionalità

Luogo di nascita

Luogo di morte

Causa della morte

Luogo di residenza

Istruzione

Attività lavorative

Relazioni

Organizzazioni

Premi e riconoscimenti

Georgia Women of Achievement (1994)
American Academy of Arts and Letters Academy Award (Literature ∙ 1943)
Georgia Writers Hall of Fame

Breve biografia

Carson McCullers reinvented herself after leaving home at age 17 to study at the Juilliard School of Music in Manhattan. Something happened to make her lose the money and she never attended the school. Instead, she worked and took night classes at university. Her published writing began to appear in 1936. She suffered throughout her life from serious illness, including rheumatic fever and several strokes. By the age of 31, her left side was completely paralyzed. Her work, usually set in the South of her birth, often focused on people seen as misfits and outcasts.
Statistiche
Opere

82

Opere correlate

54

Utenti

19,834

Popolarità

#1,092

Voto

3.9
Recensioni

446

ISBN

453

Lingue

22

Preferito da

124

A proposito di

1

Citazioni

1,008