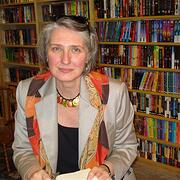 Informazioni generali
Data di nascita

Sesso

Nazionalità

Luogo di nascita

Luogo di residenza

Québec City, Québec, Canada
Thunder Bay, Ontario, Canada
Winnipeg, Manitoba, Canada
Montréal, Québec, Canada
Knowlton, Canada

Istruzione

Attività lavorative

Agente

Breve biografia

I'd like to tell you a little bit about myself. I was born in Toronto in 1958 and became a journalist and radio host with the Canadian Broadcasting Corporation, specializing in hard news and current affairs. My first job was in Toronto and then moved to Thunder Bay at the far tip of Lake Superior, in Ontario. It was a great place to learn the art and craft of radio and interviewing, and listening. That was the key. A good interviewer rarely speaks, she listens. Closely and carefully. I think the same is true of writers.

From Thunder Bay I moved to Winnipeg to produce documentaries and host the CBC afternoon show. It was a hugely creative time with amazingly creative people. But I decided I needed to host a morning show, and so accepted a job in Quebec City. The advantage of a morning show is that it has the largest audience, the disadvantage is having to rise at 4am.

But Quebec City offered other advantages that far outweighed the ungodly hour. It's staggeringly beautiful and almost totally French and I wanted to learn. Within weeks I'd called Quebecers 'good pumpkins', ordered flaming mice in a restaurant, for dessert naturally, and asked a taxi driver to 'take me to the war, please.' He turned around and asked 'Which war exactly, Madame?' Fortunately elegant and venerable Quebec City has a very tolerant and gentle nature and simply smiled at me.

From there the job took me to Montreal, where I ended my career on CBC Radio's noon programme.

In my mid-thirties the most remarkable thing happened. I fell in love with Michael, the head of hematology at the Montreal Children's Hospital. He'd go on to hold the first named chair in pediatric hematology in Canada, something I take full credit for, out of his hearing.

It's an amazing and blessed thing to find love later in life. It was my first marriage and his second. He'd lost his first wife to cancer a few years earlier and that had just about killed him. Sad and grieving we met and began a gentle and tentative courtship, both of us slightly fearful, but overcome with the rightness of it. And overcome with gratitude that this should happen to us and deeply grateful to the family and friends who supported us.

Eleven years later we live in an old United Empire Loyalist brick home in the country, surrounded by maple woods and mountains and smelly dogs.

There are times when I'm in tears writing. Not because I'm so moved by my own writing, but out of gratitude that I get to do this. In my life as a journalist I covered deaths and accidents and horrible events, as well as the quieter disasters of despair and poverty. Now, every morning I go to my office, put the coffee on, fire up the computer and visit my imaginary friends, Gamache and Beauvoir and Clara and Peter. What a privilege it is to write. I hope you enjoy reading the books as much as I enjoy writing them.
Statistiche
Opere

38

Opere correlate

5

Utenti

47,934

Popolarità

#328

Voto

4.0
Recensioni

2,982

ISBN

821

Lingue

22

Preferito da

134