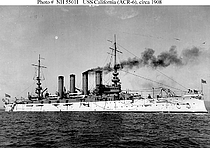 Collezioni

Etichette

Crew's Library (830), Ship's Library (703), American and English Fiction and Essays (519), Biography (116), Useful Arts (91), Naval and Military History (72), Africa and Asia (68), United States (65), Natural Sciences (57), Naval and Military Arts (49), Foreign Fiction (except English) and Essays (42), North Central and South America or America (41), Sociology (40), Law and Diplomacy (38), Europe in General and Minor Countries (34), General Works (30), Travels and Adventures (28), Oceanica and Polar Regions (27), Great Britain (26), History and Geography (25), Naval and Military Intelligence and Information (25), Russia and Spain (21), Language (21), Religion (20), Fine Arts (17), France (17), Germany and Austria (16), Italy (13), Philosophy (8), Poetry and Drama (7)

Cloud

Formato

Aggiunto

Mar 2, 2010
Nome vero

USS California (Armored Cruiser No. 6)

La mia biblioteca

Informazione su di me

USS California, a 13,680-ton Pennsylvania class armored cruiser, was built at San Francisco, California. She was commissioned in August 1907, and spent the next ten years serving in the Pacific. California regularly operated along the North American west coast, with occasional cruises to Hawaii and other oceanic islands. In 1912, she briefly deployed to the western Pacific for service on the Asiatic Station.

In September 1914 California was renamed San Diego to make her original name available for assignment to a battleship. She frequently was employed as Pacific Fleet flagship between then and July 1917, when she was sent to the Atlantic for World War I service. San Diego operated as a convoy escort in the North Atlantic until 19 July 1918, when she was sunk off Fire Island, New York, probably by a German mine. San Diego was the only major warship lost by the United States in World War I.


Gli iscritti hanno fatto di recente:
Questo sito utilizza i cookies per fornire i nostri servizi, per migliorare le prestazioni, per analisi, e (per gli utenti che accedono senza fare login) per la pubblicità. Usando LibraryThing confermi di aver letto e capito le nostre condizioni di servizio e la politica sulla privacy. Il tuo uso del sito e dei servizi è soggetto a tali politiche e condizioni.