Moleiro v. Folio Society Atlas facsimiles
Iscriviti a LibraryThing per pubblicare un messaggio.
Questa conversazione è attualmente segnalata come "addormentata"—l'ultimo messaggio è più vecchio di 90 giorni. Puoi rianimarla postando una risposta.
M Moleiro v. Folio Society LE
The Barcelona based company M Moleiro specialises in identical reproductions of some of the greatest medieval and Renaissance bibliographic treasures, obtaining authorisation to do so from libraries and museums of great universal renown.
To quote Wikepedia:-
M. Moleiro Editor has enjoyed unprecedented success ever since their first facsimile editions whose meticulous details make them difficult to distinguish from the original manuscripts. As a result of publishers applying the term "facsimile" fraudulently and haphazardly to different types of reproduction of far poorer quality in recent decades, M. Moleiro Editor decided to label their codices "quasi-original" to reflect the outstanding results obtained from lengthy processes of trial and error. In 2010, the French newspaper Le Monde wrote, "The Spanish publishing house Moleiro has invented the "quasi original", a more appropriate term for describing the extremely painstaking artisan work involved in manufacturing these works which are more like clones than facsimiles".5 Indeed, no expense is spared in any of their editions to duplicate the texture, smell, thickness and variable density of paper and parchment, the gold in the miniatures, the leather bindings and thread used to sew them. The resulting copies are therefore deemed to be clones and not merely reproductions.
All this publisher's editions are unique, first editions, limited to 987 numbered copies authenticated by notary public. The aim of all this is to offer readers a select, painstaking product likely to increase in value over time. In 2001, The Times described the work of this publishing house as "The Art of Perfection".
Perfection though, comes at a price.
The average Moleiro facsimile is about three times the price of an equivalent Folio Society Limited Edition.
I have a particular interest in atlases and I have been able to obtain a copy of the M Moleiro Universal Atlas of Diogo Homem, the original of which is housed in the National Library of Russia, St Petersburg. The book in its case measures 294 x 451 mm. and has 40 pages consisting of 19 two-page charts. The book is in a brown leather binding and matching brown leather case. Mine is No. 678 of 987 copies.
It is accompanied by a large (230 x 330 mm ) 336 page commentary volume which has 164 illustrations and written in both English and Spanish.
The facsimile and commentary volume retail for €3300.
The Moleiro website states that:-
The charts by Diogo Homem – the most productive Portuguese cartographer – are the most emblematic and priceless example of the navigation charts produced in Portugal in the 16th century. Diogo Homem's beautiful atlas, dated circa 1565, will always be deemed to be one of the most brilliant examples of this cartography. Until now, this breathtakingly beautiful universal atlas – one of the most aesthetically significant items in this author's prolific oeuvre – had merely been the subject of brief comments and the occasional photograph using limited means. This virtually identical edition reproducing every single aspect of the codex may therefore be considered to be the definitive version.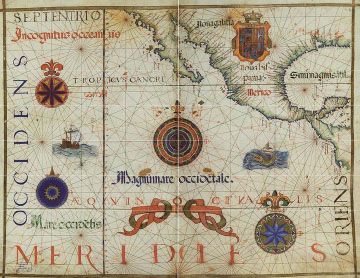 I also own the huge and magnificent Folio Society Queen Mary Atlas which is limited to 1000 copies (mine is nmber 561) and is contemporary with the Universal Atlas of Diogo Homem.
Bound in full-grain calf leather in a binding design by David Eccles, featuring the conjoined arms of England and Spain. It contains 12 double-page maps and charts, each measuring 31" x 22½". Each map mounted on a 'guard', so that it opens absolutely flat.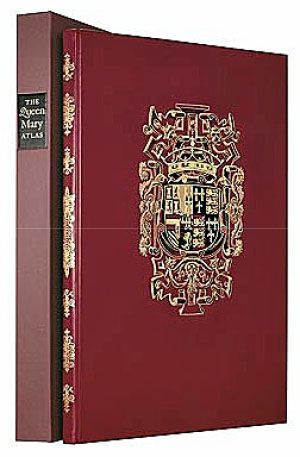 Enclosed with it in a sturdy buckram bound solander box is a specially commissioned commentary volume by Peter Barber, bound in full buckram.
The Queen Mary Atlas is both one of the most beautiful atlases ever made and a fascinating historical Document. A prized possession of the British Library, it is without question one of the most important and remarkable manuscripts in the history of map-making.
The Folio Society website states:-
In The Queen Mary Atlas – commissioned as a gift for Philip II of Spain from his wife – the world is dominated by the great maritime powers of Spain and Portugal. Ships patrol the seas or do battle with rival fleets. Ornate compass roses gesture enigmatically to the East. Flags and coats of arms jostle with pictorial vignettes of major cities and natural landmarks. Islamic banners in North Africa and the Balkans cast a threatening shadow over the borders of Christian Europe. The increasing geographical knowledge of the time is permeated with myths and misconceptions; monstrous creatures swim in uncharted, non-existent waters; legendary African kings rule from the foothills of mountains. But that is part of the great beauty and charm of this remarkable manuscript.
One of the most beautiful atlases ever made, it was commissioned by Queen Mary Tudor as a gift to her beloved husband Philip of Spain. Holding a crucial place in the history of map-making, this is a remarkable portrait of the Renaissance world.
The facsimile and commentary volume retail for €1100 .
So what is the difference between M Moleiro and Folio Society?
PAPER
MM : Thick and very stiff
FS : Slightly thinner but easier to handle
MAPS
MM: 19 double pages
FS : 12 double pages
BINDING
MM : Heavy brown leather
FS : Moroon full grain calf leather
COVER IMPRINT
MM : Uncoloured title impression
FS : Gold and black coat of arms
SIZE
MM : 294 x 541 mm.
FS : 415 x 588 mm.
COMMENTARY
MM : Huge separate 336 page lavishly illustrated book
FS : Small buckram bound minimally illustrated book.
CASE
MM : Full heavy brown leather
FS : Buckram bound solander box
LIMITATION
MM : 987 copies
FS : 1000 copies
PRICE
MM : €3300
FS : €1100
And then the ultimate question – which atlas, regardless of price, would I prefer?
My personal preference is the imposing Folio Society Queen Mary Atlas, not the least because of the impressive coat of arms embossed on its cover and the beautiful maroon leather, which somehow has a nicer feel than that of the Moleiro atlas.
When showing off the Queen Mary Atlas, the massive solander case is impressive, but when opened the rich red leather leaps out at you. By comparison, the leather case of the Moleiro Universal Atlas is impressive in itself, but opening it to reveal an almost identical brown leather book is almost an anticlimax.
The Moleiro is certainly magnificent, but when prices are compared, you are really paying three times as much for a better commentary volume and a leather (rather than buckram) case.
The Folio Society LEs are magnificent and at a reasonable price.
Thanks for presenting these, and for the lovely photographs. Wonderful to have these extraordinary works in your library!