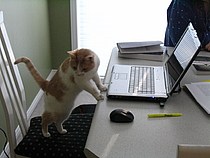 Collezioni

Tutte le collezioni

(725), Running Shelf (16),

La tua biblioteca

(708),

In lettura

(2),

Da leggere

(80), Quick Reference Shelf (34), Tolkien Shelf (50), Cookbook Shelf (20), Photography Shelf (8), Bar Shelf (7),

Lista dei desideri

(15)

Etichette

textbook (67), tolkien (44), cbc (44), massey lectures (40), canada (37), français (31), united states (19), cookbook (18), history (18), mlis (16), signed by author (16), politics (16), first edition (16), spain (13), drafts (12), graphic novel (10), government (9), health (9), food (9), science (9), reference (9), baby (8), running (8), silmarillion (8), war (8), religion (7), spanish civil war (7), xmas gift 2020 (7), vinyl cafe (7), humour (7), technical reference (7), lord of the rings (6), référence (6), middle-earth (6), term1 (6), radio (6), short stories (6), economics (6), programming (6), spanish (6), unowned (6), cooking (5), children (5), england (5), xmas gift 2016 (5), fitness (5), art (5), misinformation (5), travel (5), federal (4), law (4), urban planning (4), gift from mujer (4), maternity (4), cocktails (4), biography (4), nixon (4), first world war (4), language (4), fiction (4), gift from david (4), term3 (4), climate change (4), undergrad (4), christianity (4), parenting (4), afghanistan (4), mystery (4), cryptography (4), indigenous peoples (3), posthumous (3), rwanda (3), ottawa (3), presidency (3), greek (3), photography (3), genocide (3), copyright (3), barcelona (3), watergate (3), cover-up (3), dickens (3), xmas gift 2018 (3), web (3), hobbit (3), bibliophile (3), pregnancy (3), javascript (3), gardening (3), birth (3), quebec (3), public health (3), audio CD (3), library (3), map (3), self-learning (3), nutrition (3), first nations (3), movie tie-in (3), bush (3), ebook (3), historical fiction (3), poetry (3), dictionary (2), scotland (2), xmas gift 2017 (2), vegetables (2), disinformation (2), united nations (2), america (2), trudeau (2), 2013 (2), xmas gift 2021 (2), holocaust (2), president (2), british (2), teen (2), translation (2), prime minister (2), investing (2), xmas gift 2019 (2), 1990s (2), george w. bush (2), ptsd (2), cheney (2), financial management (2), POTUS (2), young adult (2), liberal (2), iraq (2), guerre (2), christmas (2), WWII (2), WWI (2), russia (2), psychology (2), management (2), cyberpunk (2), rapports (2), world war II (2), autobiography (2), term2 (2), second world war (2), world war two (2), capitalism (2), planning (2), wine (2), globalization (2), pre-confederation (2), elective (2), espagne (2), correspondence (2), canadian (2), poverty (2), perl (2), diet (2), maps (2), mulroney (2), digital cameras (1), library of parliament (1), berlin (1), magnitsky (1), unconference (1), new orleans (1), traité de versailles (1), barack obama (1), iran (1), librarianship (1), limited edition (1), hony (1), ingesting (1), koch brothers (1), hockey (1), lent to Lisanne (1), landscape (1), signed by coworkers (1), pre-1867 (1), 2016 (1), david (1), interviews (1), 2011-2013 (1), astronomy (1), signed by contributor (1), Anonymous (1), gift from richard and paulette (1), lop (1), child soliders (1), d-day (1), 30th anniversary edition (1), lent to Karen (1), un (1), romeo dallaire (1), openNLP (1), subprime mortgages (1), montreal canadiens (1), US politics (1), parting gift (1), canadiens (1), Chamberlain (1), wall street (1), solr (1), mahout (1), 2018 (1), great recession (1), financial crisis (1), lulz (1), beleriand (1), ultrarunning (1), montcalm (1), first canadian edition (1), normandie (1), yoga (1), collaboration (1), middle east (1), 9/11 (1), financial (1), librarian (1), germany (1), empire (1), canadian author (1), canadiana (1), military (1), cycling (1), nazis (1), pseudoscience (1), katrina (1), studio (1), garden (1), toddler (1), eastern philosophy (1), sustainability (1), arthur (1), portrait (1), racism (1), books about books (1), 1990 (1), bullying (1), satire (1), learning (1), banned books (1), 2003 (1), hardcover (1), 2001 (1), classics (1), trade (1), american (1), eating (1), boston (1), baseball (1), 18th century (1), 1993 (1), media (1), culture (1), teaching (1), 1940s (1), pluto (1), chef (1), home (1), file formats (1), fenway (1), 2020 (1), stadium (1), systems librarianship (1), science literacy (1), 2017 (1), leafs (1), nhl (1), fenway park (1), republican (1), parliament (1), wolfe (1), apache (1), data processing (1), toronto maple leafs (1), 2015 (1), champlain (1), Britain (1), putin (1), lucene (1), treaties (1), java (1), harassment (1), Churchill (1), open source (1), weeded (1), extortion (1), red sox (1), Macmillan (1), lighting (1), jane jacobs (1), mvc (1), 2012 (1), social media (1), cyberbullying (1), digital photography (1), slow cooker (1), first paperback edition (1), flash (1), portraits (1), data (1)

Cloud

Formato

Gruppi

Aggiunto

Aug 28, 2006
Nome vero

W

La mia biblioteca

The books catalogued here are only those that I own and do not include books borrowed from the library. I use LibraryThing to catalogue my personal library, not to track what I have read.

When it comes to reading, I enjoy just about anything: sci-fi, poli. sci., historical fiction, social studies, fantasy, technical reference, classic cookbooks, and so on. My big three are Tolkien, Orwell and Jacobs. I have read everything ever published by these authors. I also enjoy CBC's

Massey Lectures

and hope to collect each volume in the series.

I have blatantly stolen my rating guidelines from

aulsmith

, which are as follows:

* - No one should have to read this book.

** - This book has minor redeeming features such as being an author's early work, having some useful information, or being funny.

*** - I enjoyed it while I was reading it, but it's not worth reading again (or I enjoyed it when I was twelve, but it didn't stand up to my adult expectations).

**** - It's good. Given world enough and time, I would probably read it again.

***** - It changed my life or it changed my thinking or I loved it so much I'll definitely try to read it again.

Informazione su di me

I am lover of interesting libraries, and a regular bibliophile.

Appartenenze

In lettura da parte di

Autori preferiti

Posti preferiti

Librerie: Haslam's Book Store, Librairie Le coin du livre (Central), Librarie du Soleil, Perfect Books, Trident Booksellers & Cafe

Biblioteche: Bodleian Library, Oxford University - Radcliffe Camera, Boston Public Library, Library of Parliament - Centre Block, New York Public Library - Stephen A. Schwarzman Building, Ottawa Public Library - Cumberland Branch, Ottawa Public Library - Main Library, Ottawa Public Library - Orléans Branch
Gli iscritti hanno fatto di recente:
Connessioni ad altri utenti
Amici

Biblioteca interessante
Questo sito utilizza i cookies per fornire i nostri servizi, per migliorare le prestazioni, per analisi, e (per gli utenti che accedono senza fare login) per la pubblicità. Usando LibraryThing confermi di aver letto e capito le nostre condizioni di servizio e la politica sulla privacy. Il tuo uso del sito e dei servizi è soggetto a tali politiche e condizioni.