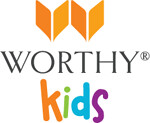 WorthyKids is an imprint of Hachette Nashville, dedicated to creating colorful and interactive children's books, including VeggieTales and Berenstain Bears, for ages 1-9.
Pagina principale

Twitter

Facebook

Instagram
Luglio 2022
Pacchetto
Omaggio terminato

:

25 luglio alle ore 06:00 pm EDT
Help little ones learn to live by faith and love others well with this picture book from beloved television stars Jinger and Jeremy Vuolo.
This sweet and inspiring book encourages children to let their light shine as they move about the world. As they read along, little readers will be introduced to the fruits of the Spirit from Galatians 5:22–23. Written in lighthearted verse, the story follows a group of children as they model love, joy, patience, peace, and more in everyday, relatable scenarios. This book, straight from the heart of the Vuolos, is perfect for families looking for a faith-based story to share together.
Formato

Cartaceo

Generi

Children's Books, Religion & Spirituality, Picture Books, Kids

Offerto da

WorthyKids (

Editore

)

Collegamenti
June 2022
Pacchetto
Omaggio terminato

:

27 giugno alle 06:00 pm EDT
Teach little ones about making and being friends with this VeggieTales board book about all the things that make friends the best. 
The Veggies know it is important to be kind and loving to all. Bob, Larry, Laura, Junior, and the rest of the Veggies learn all about what being a good friend means: being kind, forgiving one another, taking turns, sharing, and laughing together. Children will take away the message that we can be a friend to those we meet, whether we share a lot or very little in common on the surface, and that God is the best friend we can ever have.

 
Formato

Cartaceo

Generi

Children's Books, Kids

Offerto da

WorthyKids (

Editore

)

Collegamenti
May 2022
Pacchetto

: 5

Libri

Offerti
Omaggio terminato

:

30 maggio alle ore 06:00 pm EDT