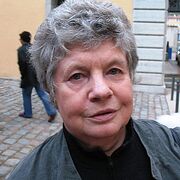 Informazioni generali
Nome legale

Altri nomi

Data di nascita

Data di morte

Sesso

Nazionalità

Luogo di nascita

Luogo di residenza

Istruzione

University of Cambridge (BA|1957|Newnham College)
Bryn Mawr College
University of Oxford (Somerville College)

Attività lavorative

Relazioni

Duffy, Peter (husband)
Byatt, Ian Charles Rayner (first husband)
Drabble, Margaret (sister)
Langdon, Helen (sister)
Holroyd, Michael (brother-in-law)
Swift, Rebecca (1) (niece) (

mostra tutto

7)
Swift, Joe (nephew)

Organizzazioni

Premi e riconoscimenti

Order of the British Empire (Commander, 1990)
Order of the British Empire (Dame Commander, 1999)
Premio Malaparte (1995)
Shakespeare Prize (2002)
Booker Prize (1990)
Park Kyong-ni Prize (2017) (

mostra tutto

17)
American Academy of Arts and Sciences (2014)
Aga Khan Prize for Fiction (1995)
PEN/Macmillan Silver Pen Award (1986)
Irish Times International Fiction Prize (1990)
Commonwealth Writers Prize (1991)
Mythopoeic Fantasy Award for Adult Literature (1998)
James Tait Black Memorial Prize (2010)
Erasmus Prize (2016)
Fellow, British Academy (2017)
Golden Plate Award from American Academy of Achievement (2017)
Hans Christian Andersen Literature Award (2018)

Breve biografia

Antonia Susan Drabble was born in Yorkshire and educated at a Quaker school in York. After studying at Cambridge University and Bryn Mawr College, she did postgraduate work at Oxford University. In 1959, she married Ian Charles Rayner Byatt and had two children; she later married Peter John Duffy and had two more children. She goes by the pen name A.S. Byatt. She taught in the Extra-Mural Department of London University and the Central School of Art and Design, and in 1972 became full-time Lecturer in English and American Literature at University College, London. She left in 1983 to concentrate on her writing full-time. She has travelled widely to lecture and talk about her work, often with the British Council, and was Chairman of the Society of Authors between 1986 and 1988. She has served on the judging panels for a number of literary prizes, including the Booker Prize for Fiction, and is recognised as a distinguished critic, contributing regularly to journals and newspapers including the Times Literary Supplement, The Independent and the Sunday Times, as well as to BBC radio and television programs. Her first novel, Shadow of a Sun, was published in 1964. A.S. Byatt was awarded a CBE in 1990 and a DBE in 1999.
Statistiche
Opere

65

Opere correlate

70

Utenti

34,226

Popolarità

#555

Voto

3.9
Recensioni

794

ISBN

522

Lingue

19

Preferito da

227

A proposito di

2

Citazioni

1,991