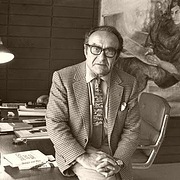 Jacob Bronowski
(1908–1974)
Informazioni generali
Altri nomi

Data di nascita

Data di morte

Luogo di sepoltura

Sesso

Nazionalità

Luogo di nascita

Luogo di morte

Istruzione

Attività lavorative

biologist
author
teacher
mathematician
historian of science
deputy director of the Salk Institute for biological studie (La Jola, Cal.)

Relazioni

Organizzazioni

Breve biografia

Jacob Bronowski's family fled Poland when it was occupied by Russia in World War I, and arrived in England in 1920. He spoke no English, but eventually won a scholarship to Cambridge University and became a mathematician, scientist, and historian of science. He began appearing on British television in the 1950s and is best remembered as the host and writer of the groundbreaking 13-part 1973 BBC documentary series, The Ascent of Man.
Statistiche
Opere

34

Opere correlate

8

Utenti

4,817

Popolarità

#5,212

Voto

4.1
Recensioni

38

ISBN

88

Lingue

14

Preferito da

13